The organization started by asking police in Migori County what they needed to protect young women. Fulfilling one simple request has sparked a wave of arrests and convictions. Officers needed gas for their cars to investigate more of these crimes. Fuel donations, supplies for safe spaces and other no-nonsense strategies are on track to making 2022 "The Last Cut."
The horrible practice of female genital mutilation (FGM) is closer than ever to being snuffed out in Kenya, thanks in part to common-sense solutions that are protecting young women. Since the nonprofit WHOlives started working with leaders in the Kuria region in fall 2022, police have arrested dozens of people perpetrating this illegal tradition, and thousands of girls have been rescued.
"It's really sent the first set of shockwaves through the community," said John Renouard, founder of WHOlives. "They're no longer parading the girls down the streets to celebrate this abuse."
Renouard and his team are working to make last year "The Last Cut" in Kuria, an area of southwest Kenya where about 85% of girls have traditionally been cut, mostly between the ages of 9 and 15, accounting for a high percentage of the remaining FGM happening in Kenya. 
Progress has been quick, with local authorities reporting they've arrested more than 50 people since December. More than 30 of them have already been prosecuted and convicted, with prison sentences ranging from 3 to 15 years, according to Deputy County Commissioner Joyfillah Wambua.
Unfortunately, police suspect 50 Kurian girls experienced FGM during the cutting season that ended in January.
"These are grown men who have knowingly tortured and abused little girls in the most despicable ways for their own profit and their own personal pleasure," Renouard said. "They're kidnapping, mutilating and selling little girls for profit into child marriages and slavery."
WHOlives is partnering and strategizing with local officials to support additional arrests, convictions, education and resources. Jimmy Mukundi, the WHOlives field manager in Kenya, has been instrumental in the progress, and Renouard says they're on track to effectively end FGM in Kuria this year.
More than 200 million girls and women alive today have undergone FGM in 30 countries, according to the World Health Organization. In Africa, cutting season is a horrifying time for girls in which healthy and normal female genital tissue is cut for no reason.
As Renouard started looking into why this practice was still happening, he asked police what they needed to do their jobs and investigate these crimes. The simplicity of their answer shocked him: fuel. 
Renouard learned each police station gets 15 liters of fuel a day for their five cars. That allows each car to go about 15 miles out and 15 miles back. What happens if a crime happens farther away? After investigating, officers have to essentially park the cars until their fuel budget catches up. Cases of FGM had simply not been prioritized, and the perpetrators were going unchecked.
The solution? Basically sending police $100 as needed through M-PESA, the African equivalent of Venmo, as long as they used the money for fuel to investigate FGM cases. WHOlives requires that they keep a log book that's checked by local child advocates and magistrates to ensure accountability. This process is now in place at all five police stations in Kuria.
"I am confident that with the approach that WHOlives has come up with, the fight against FGM has gone a notch higher," said Patrick Njoroge, the police commander for Kuria East. "WHOlives assisted the police greatly by providing funds to buy fuel so that the police could conduct patrols, rescues and interventions where necessary."
The fuel donations come without bureaucracy or nonsense, empowering police to investigate these cases. Now, they are aggressively enforcing the law, putting everyone on notice that these crimes against women will be prosecuted.
Commissioner Wambua said the gas money for police cars serves as a warning to protect the girls.
"The fact that the police had extra fuel for the response made the community fear committing the crime of cutting the girls and parading the bleeding girls in the streets with impunity as a way of celebrating and fundraising," Wambua said.
So far, the majority of arrests have been parents who are forcing the abuse of their own daughters. Now, the focus is village elders who are compelling FGM in addition to the cutters themselves.
People who've donated to WHOlives are also helping in a number of other ways to end this pattern of mutilation and enslavement. The organization has dispatched local volunteers to go to schools and educate girls that they don't have to be cut. 
Plus, the nonprofit delivered beds, food and other key supplies to rescue centers and every police station in Kuria, with the need far outweighing expectations. Ultimately, more than 2,000 girls sought refuge during the last cutting season.
"At some point, we were overwhelmed by the huge number of girls who fled to the rescue centers," Wambua said. "Partners like WHOlives came in handy to bail us out, especially with food donations to feed the girls. We appreciate their generosity and support. With such partnerships, we expect this nonsense to end."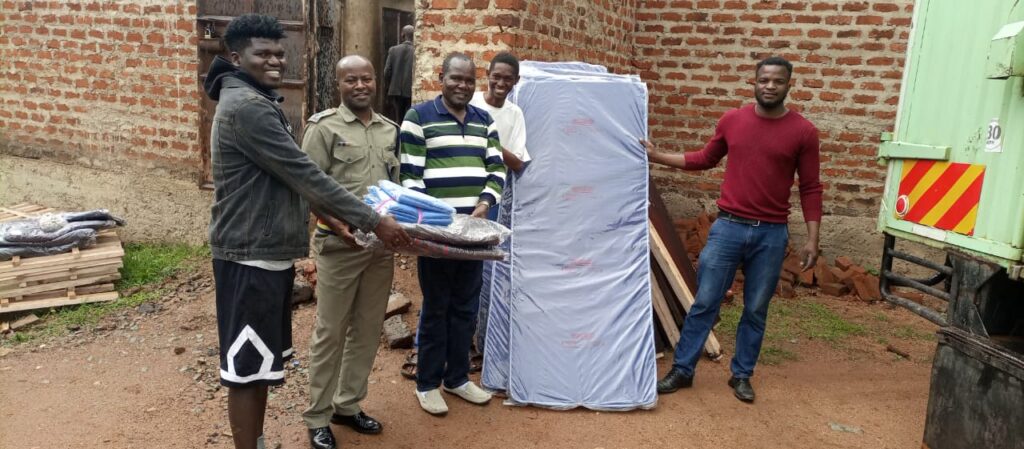 WHOlives established "safe spaces" at the five police stations that will serve the community in the future as well. They have beds, mattresses, bedding and snacks.
"Safe spaces were used to host girls who ran away from their homes to escape from FGM," Njoroge said. "They provided a conducive environment for girls before they could be placed in rescue centers. Safe spaces will also be used to host mothers and kids who run away from their homes due to sexual and gender-based violence." 
Mukundi, the field manager for WHOlives, helped reunify most of the girls with their parents, with strings attached to protect the children. Parents had to speak with welfare agents and police, then sign an agreement promising not to harm their child. Officers warned parents that if their daughter was found to be cut in the future, they would be arrested.
Some of the girls have had to flee their homes for good. WHOlives is continuing to pay for their education and living expenses, thanks to the generosity of donors. Donations are also supporting the prosecution of the perpetrators (e.g., paying the travel expenses of witnesses so that they can testify in court). In addition, gas money allows the Department of Children Services to transport girls to rescue centers as needed.
People can help make a difference by contributing to the WHOlives Special Fund: Supporting Survivors and Ending FGM at WHOlives.org.
Renouard also wrote a 16-page pamphlet called "The Value of a Daughter," which is helping to educate families about the consequences of their decisions. They can choose to harm women and pay the price, or they can choose to protect women and reap the benefits.
This approach of understanding and meeting local needs – including education, fuel and rescue center supplies – has led to major progress in Kuria. WHOlives is committed to ending FGM in this area, ideally before the next cutting season begins in August.
"These little girls will no longer live in fear, be denied their education and be forced to endure a lifetime of sexual abuse and unpaid physical labor without any voice," Renouard said.
The next steps for WHOlives include replicating this model in other parts of Kenya that have high rates of FGM and helping survivors secure freedom and restitution.
"We must clear the way to allow the victims of slavery to sue their captors in civil court for the damages they have endured and will carry with them forever," Renouard said. "The moment a victim of slavery is allowed to successfully sue their captors will be the moment that FGM and child marriages end forever."
ABOUT WHOLIVES
WHOlives is a 501(c)(3) nonprofit focused on empowering people with clean water in the developing world and rescuing girls from female genital mutilation (FGM) and child marriages. The organization's goal is in the acronym WHO – providing clean Water, better Health and economic Opportunities to all people – while prioritizing sustainability and self-reliance. WHOlives has drilled more than 12,000 wells in 37 countries using its revolutionary human-powered Village Drill, securing clean water for more than 12 million people. In the effort to end FGM, common-sense solutions and leadership have already resulted in a wave of arrests and convictions since fall 2022. Connect with WHOlives.org on Facebook, Instagram and Twitter.
ABOUT JOHN RENOUARD
John Renouard, founder and executive director of the nonprofit WHOlives, is known affectionately in Africa as "Bwana Maji," or Mr. Water. After visiting in 2010, he knew he had to do something about the lack of clean water in many African villages. John worked with engineering students to bring to life his dream of a human-powered drill that could access clean water hundreds of feet deep. The Village Drill has since created more than 12,000 wells in 37 countries, empowering more than 12 million people with clean water, health and opportunity. John is also currently working to end female genital mutilation (FGM) in Kenya. The American Red Cross presented him an International Hero Award in 2015. Connect with John at WHOlives.org or on LinkedIn.