Expeditions
Travel. Serve. Learn. Life-changing experiences for both those we serve and for those who participate.
"Taking this trip with WHOlives was the greatest decision we ever made. We should all seek out such experiences at least once in our lives!"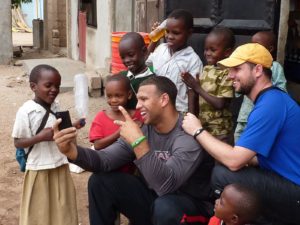 August 2 – August 10, 2019: Join Us in Kenya!
Looking for a meaningful summer vacation? Longing for a life-changing journey that will forever be remembered? Then join us this summer for a special expedition to East Africa. From service projects to safari adventures, this will be the trip of a lifetime: August 2th – August 10th in Kenya! Limited space available and discounts available for families.
click here for fees, itinerary and deposit information
As part of our mission to improve the lives of millions, WHOlives organizes humanitarian expeditions to East Africa, providing volunteers the honor of working and learning alongside the families we serve in remote rural communities. These unique expeditions provide the following benefits to participants:
increased global awareness
greater cultural knowledge
inspiring service opportunities
a deeper understanding of ourselves
life-changing experiences
Expedition fees vary for individuals, families, corporations & students.
Fees include flights, ground transportation, lodging, meals, sightseeing activities, and trip leadership.
Expedition programs with WHOLives can be customized for companies, student groups, and families. We work hard to ensure that each participant has a rich cultural immersion experience while serving hand-in-hand with local families. Regular expedition activities include:
assisting families with household responsibilities
preparing popular native foods
working with farmers in agricultural practices
volunteering in health clinics and orphanages
recreational activities and sightseeing